Music with Maya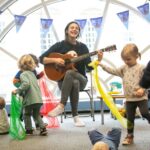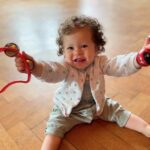 Spark your child's musical curiosity and confidence! Join Maya and her guitar to explore a world of music and games. Sing-alongs, percussion games, real instruments, storybooks, educational themes, colourful scarfs, puppets, parachutes and more! Music to inspire all ages, accessible to little ears (0-5 years). More information and booking available online: www.musicwithmaya.co.uk
Willow Tree Kindergarten
The Willow Tree Steiner Parent and Child group has been created with a wish to support and nurture young  children and their families and to attempt to help us all recognise the importance of protecting the delightful wonder of early childhood. A gentle journey through the seasons with simple crafts, food and celebration with your child; the sessions offer a warm and protective environment for children to take their first steps on the bridge between home and the world of school (and all that lies beyond!).
The mood of the morning is intended to be informal, providing a warm, safe, child-centered space for the children and their parents to relax and play together, and for parents to share with each other the delights and difficulties of bringing up children.
Contact: info@nullwillowtreekindergarten.org.uk
Omkari Yoga
Omkari Yoga promises to deliver authentic yoga to anyone – beginners looking to start their journey into yoga or more advanced students to deepen their practice.
Typically classes with Omkari Yoga follow a traditional, exact and easy-to-learn system of Yoga that uses Asana (postures), Pranayama (breathing exercises) and Meditation to offer a way of achieving better health of the physical body, a more peaceful mind and a greater spiritual evolvement. This is like a toolbox of skills that help us lead a more fulfilled and balanced life. Bringing the body, mind, emotions and spirit into harmony we can support ourselves to be free from disease and regular practice relieves us from everyday stress.
There are regular classes in the Church Hall. for more information contact Debbie.  www.omkariyoga.com
Pregnancy Yoga
Gentle, nourishing yoga, labour and birth preparation, opportunity to connect with other mamas and with your growing bump, plus breath work and guided relaxation. contact jessicavandelft@nulloutlook.com or phone 07802642898 
Fun Dog Training
Have you just got a new dog or a rescue? Do you want to build up your relationship with your dog? Do you have a working breed and want to channel that energy into fun tasks at home and outside?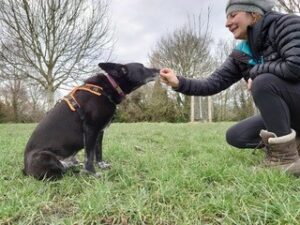 GAMES BASED TRAINING can help with all of the above and it's so much FUN for all!
I  teach a variety of games to inspire concepts such as calmness, love for the bed, impulse control, confidence, focus & proximity to get real life results. A 6 week Foundation course will give you plenty of new things to learn and grow with your dog. Find me at the Hall on Saturday mornings. Liz Clough. 
Tel: 07847 796873 or email Liz Clough
The Island Folk choir are a community choir, we sing for joy and community and perform occasionally at local events. Our repertoire is largely folk songs from Britain and beyond. We are lead by Sorrel Wilde, who believes that singing is a birthright and that every voice is beautiful. She also runs one off singing events in and around Bristol.
offers private and small group classes for anyone who wants to learn a partner dance such as Salsa, Swing, Foxtrot, Cha Cha and many more. No Partner Necessary. People with Two Left Feet Welcome. Special Deals for Wedding Couples.
EastonSocialDancing.com